The floor plan or layout of a restaurant has a major impact on the success of the business. While the design of your eatery will reflect your brand, it also affects how many customers you can serve at any one time.
Logically, the more seats or 'covers' you can cater for, the more profitable your business can be. However, restaurant owners must balance the desire to maximize capacity with the need to create a comfortable environment for patrons.
While your restaurant may technically be able to house 100 customers at one time, this could leave little room between tables and affect the ambiance. If tables feel too crowded, it could dissuade patrons from returning to the establishment, which means you'll lose money in the long-term.
Of course, the style of tables and the number of customers you can accommodate will depend on the type of restaurant you own or run. In fine dining establishments, for example, it may be more appropriate for tables to have more space between them, which means you'll reduce the maximum number of customers you can serve in a sitting. Despite this, the increased mark-up on meals and drinks still enables these businesses to generate revenue.
In contrast, more relaxed eateries, like diners or fast-food restaurants, may be able to place their tables closer together and maximize capacity but may negatively impact the customer's experience. With tighter profit margins, this could be an integral part of the business's strategy.
Maximizing Capacity
When the number of customers you can serve at one time has such a major impact on your company's profitability, it's important to be as creative as possible when it comes to the floorplan. By maximizing the space available, you can cater to more patrons, without making the restaurant feel too crowded.
To achieve this, restaurant owners look for savvy ways to increase capacity. They may use outdoor seating areas in the Spring and Summer months, for example, or extend the building to cater for more guests.
One of the most important aspects when planning a restaurant layout, however, is what furnishings you're going to use. The design of the chairs and tables will have a significant impact on how many customers you can serve. Oversized tub chairs will inevitably take up more space than café style seating, for example, which means fewer customers can be seated at once.
When it comes to restaurant seating, it is not just chairs that owners and managers need to select. While most eateries will have chairs and/or stools available for seating, restaurant booths are also extremely popular. As a way of maximizing capacity, increasing customer comfort, and enhancing the décor, booths are a cost-effective and innovative way to maximize capacity.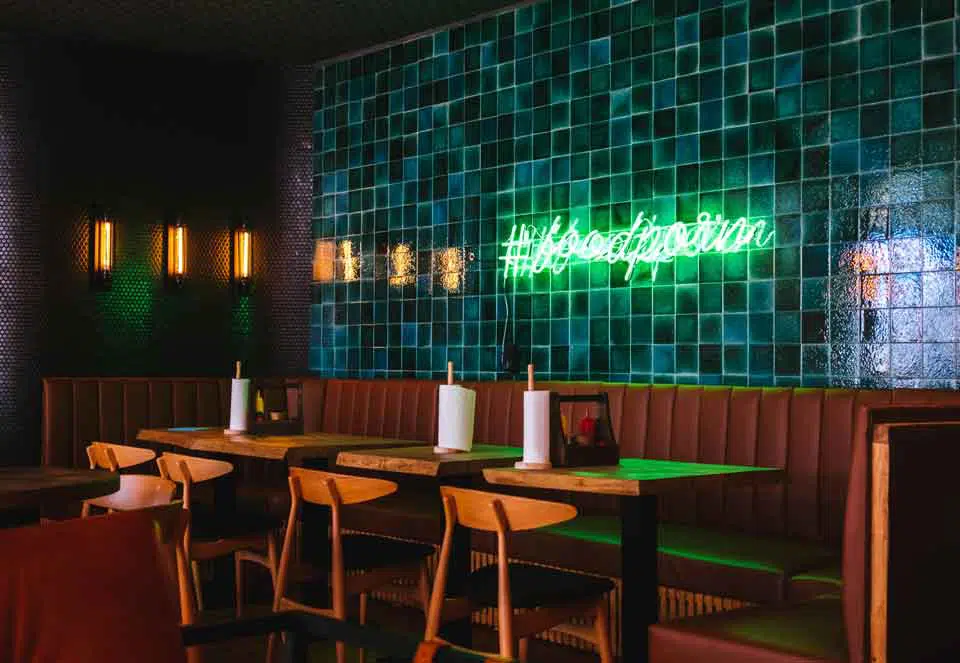 What Style of Restaurants Booths Are There?
Restaurant booths come in many shapes and styles, so there is plenty of leeways when it comes to finding booths to compliment your floor plan and interior design. Some of the most common styles are:
Single Booth
A single restaurant booth can comfortably seat two people side by side. Generally, they're fitted with a high back measuring 36" or 42", although custom options are available. Single booths can be freestanding or placed against a wall to maximize space.
If you're limited on space, a single booth can work well in your restaurant. By seating two people on a single-seat, you're reducing the amount of space you'll need to leave empty. Furthermore, single restaurant booth dimensions are generally 46" in length and 23" in width, which means they're compact enough to use in most cafés and diners, even if the restaurant area is fairly small.
Double Booths
If your restaurant caters to a large volume of customers and has a high flow of traffic, double booths could be the ideal way to maximize space and make more seating available. Double booths essentially look like two single booths placed back to back. With two people able to sit next to each other on each side of the booth, a total of four customers can be seated on one double booth.
Often, restaurants will use multiple double booths to create a seating area. With tables placed in between then, tables of four can easily be accommodated. Double restaurant booth dimensions are typically 46" in length and 44" in width. This enables you to feature much more seating that you would be able to if you opted for freestanding tables and chairs, which explains why they're so popular in restaurants all over the U.S.
Wall Bench Booths
As the name suggests, wall bench booths sit against the wall of your restaurant to create seating and floor space. This is an area that would not normally be used in any other way, so installing wall bench booths does allow you to make the most out of every square foot of floor space.
With a standard width of just 23", they're an excellent way to maximize seating availability in-house. What's more – the length of wall bench booths is customizable, so you can extend the seating as far as you choose. Some restaurant owners will run wall bench booths down the entire length of their restaurant wall, for example.
Another great advantage of these booths is the versatility they offer. By placing tables and freestanding chairs in front of the wall bench, you can create smaller seating areas for groups. When you have a party of two eating, their seating area can be made smaller. Alternatively, if you have a large party booking, tables can be moved together, and additional chairs put in place to cater to the group.
U Shape Booth
Sometimes referred to as a half-circle booth, a U shape booth can feature either soft, sloping corners or linear, defined edges. Ideal for groups, this type of seating is popular in bars, as well as in restaurants, larger cafes, and eateries.
Standard dimensions for U shape booths are 48" x 90" x 48" and will seat 4-6 customers comfortably. However, choosing sectional pieces to construct U shape booths allows for maximum flexibility. With sections, you can add extra seating capacity to the booth, as required. Additionally, you can change the shape to create a shallower seating area or leave one end open to turn it into an L shape booth.
Circular Booths
A fully circular booth is sometimes referred to as a ¾ circular booth. This is because the circle isn't entirely closed; some space must be left open to allow people to enter and exit the booth. With general circular restaurant booth dimensions of 48" x 90" x 90" x 40", they do take up more floor space than other options. However, a circular booth will seat at least 8-10 customers, which means it can be a space-saving way to serve large parties.
Some restaurant managers choose to have circular booths custom-made in one piece. Alternatively, you could use sectionals to create this type of booth. Doing so makes it easier to move booths for cleaning purposes or to alter the floorplan and table layout in-house.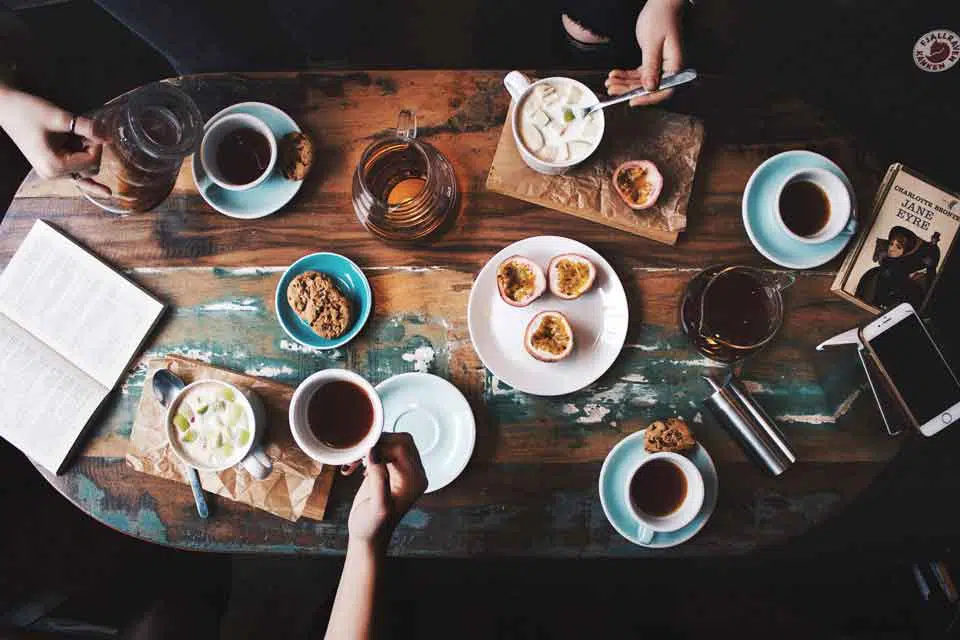 Choosing the Right Booth Configuration
The booth configuration you choose will have a considerable impact on the amount of seating you're able to offer. As such, the booth configuration in your restaurant will determine how many customers you can seat at one time and, therefore, the maximum amount of profit you can generate.
While all booth styles offer maximum seating while taking up minimal floor space, choosing the right configuration for your establishment will leave enough room for floor traffic while maximizing seating capacity.
When it comes to choosing a booth configuration, there is no universal, one-size-fits-all solution. Indeed, the versatile nature of booths means they're ideal for creating customized floor plans and bespoke layouts.
As booths are an effective way of using space that would normally remain empty, such as corners and against the walls, you can significantly increase the number of customers you can seat and serve. By using various booth configurations to maximize seating in your restaurant, you can increase your profitability accordingly.
Selecting Restaurant Booth Designs
As well as choosing a booth configuration to suit your restaurant, you'll also need to consider the design of your booths. While there are standard sizes for restaurant booths, the designs you choose can affect the dimensions of a booth.
A high-backed booth may have a height of 42", compared to a standard height of 36", for example. This offers increased comfort and privacy to diners but may make your eating area feel too segmented. If so, you may prefer to use high back booths as wall benches, rather than as freestanding seating.
Similarly, serpentine style booths have larger dimensions than standard designs. Commonly seen on wall bench booths, a serpentine style features a curved seating cushion. This adds an interesting feature to your décor and can be used to informally separate seating areas too. However, it does mean that the depth of your wall bench seating will be extended in some areas, so it's important to take this into account when you're assessing your floor plan.
Booth Colors, Fabrics, and Accessories
As any restaurateur knows, interior design has a major effect on the success of your establishment. The ambiance is influenced by the décor you choose, and certain styles will appeal to particular demographics.
Once you have decided which booth configurations to use and which designs are best suited to your restaurant, you'll be able to select the colors, fabrics, and accessories you want to use.
Restaurant booths are typically available in wood, leather, and cloth fabric, although endless variations are available should you be looking for something else. Suede or microfiber are popular fabrics, for example, while faux leather is a cost-effective alternative to real leather.
Similarly, standard colors are widely available, but you may choose to have fabrics prepared with custom styling. If you want to brand your booths with your restaurant name or logo, for example, this customization can create a bespoke seating area.
When it comes to accessories, the crumb strip, skirting, welt cord, toe kick, end cap, and top cap should all be taken into account. These are essential features of any restaurant booth, but their design can enhance the overall aesthetic. You may want to choose welt cords and top caps in contrasting colors to your seat cushions, for example.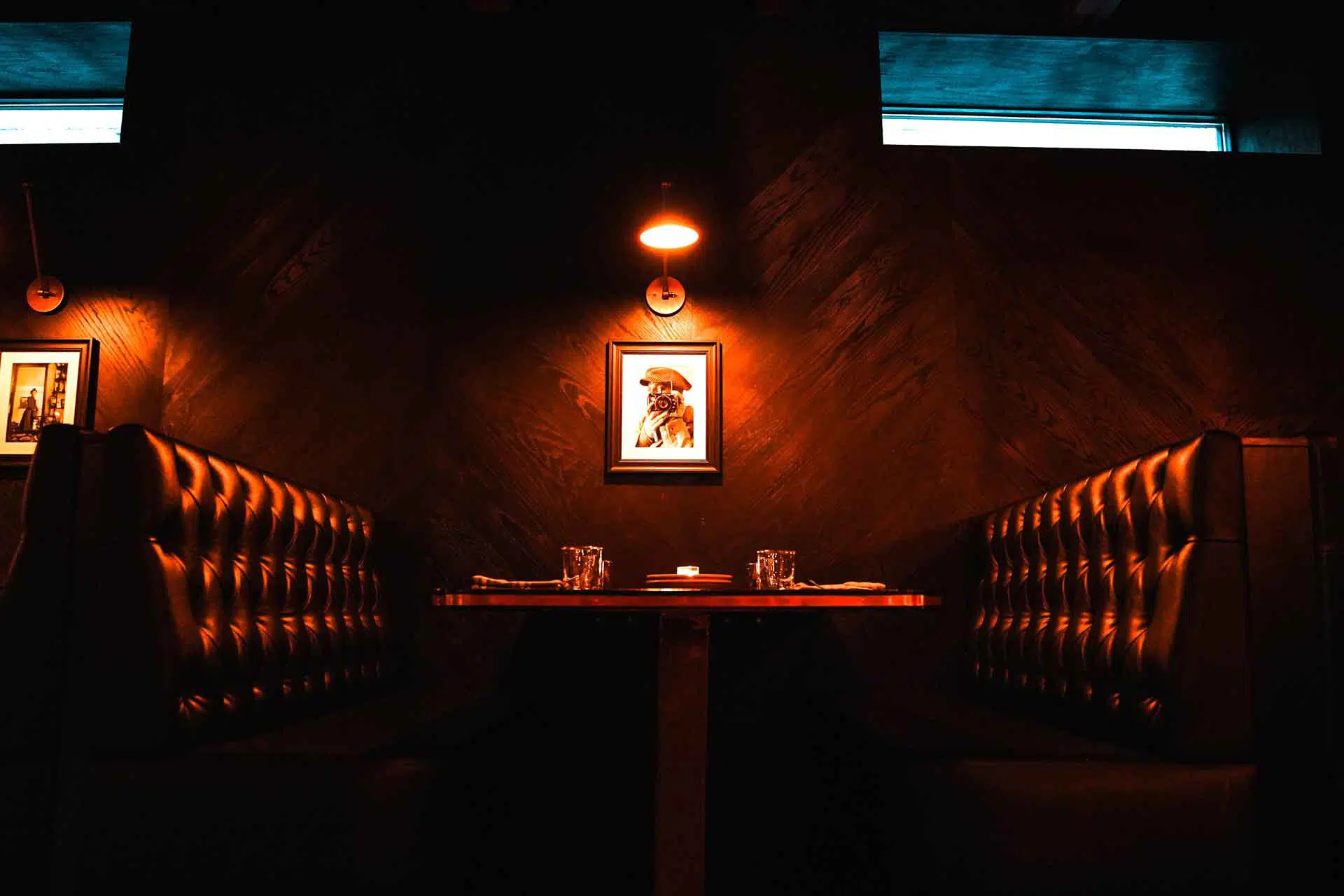 Creating Your Seating Plan
The easiest way to determine which restaurant booth dimensions and configurations work best for you is to create a seating plan. Whether you do this by hand or with computer software, it will allow you to compare potential configurations to discover which floorplans offer the best versatility and maximize capacity.
If you're opening a new restaurant, reconfiguring an existing establishment, or simply updating your interior design, it's worth spending a fair amount of time getting your seating plan right. As well as creating better flow through the building when you're open, a well-thought-out seating plan will ensure that you make the most of the available space.
Contact Waco Manufacturing Now
At Waco Manufacturing, we understand just how tricky it can be to configure restaurant seating. That's why we make it easy for restaurant owners and managers to access the help they need when they need it the most. With more than three generations of experience, Waco has been producing top-quality furniture for decades. Our industry knowledge and insight ensure we're well-placed to help you find the right booths for your restaurant.
Our range of restaurant booths includes a variety of styles, dimensions, and configurations. No matter what size your eatery is, you'll find outstanding seating to enhance the style, feel, and look of your restaurant. Also, our craftsmanship and experience ensure we're able to produce one-of-a-kind custom products according to your exact specifications.
To find out more about restaurant booths and how best to utilize them in your business, or to talk to a member of our team, contact Waco Manufacturing now at 312-733-0054 or email us at info@wacoseating.com.